TomTom vs Magellan Roadmate for the iPhone
1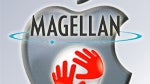 Introduction:
As smartphones continue to encroach into territory traditionally held captive by standalone GPS devices, the personal navigation market has seemingly turned almost upside down as GPS manufacturers scramble to stay afloat. Leading the charge is none other than the iPhone, which lays claim to a plethora of navigation apps, which present consumers with a one-time payment solution, without the hassle of being placed on a monthly subscription. With that in mind, we took both the TomTom and Magellan Roadmate apps for a spin to see which personal navigation software best presents itself as the solution that consumers demand.
Interface:
Seeing that we're already familiar from using a dedicated
TomTom
GPS device, the
main menu
interface with the iPhone app follows accordingly without much deviation. Honestly, you can't get lost in finding your way around the app since it's laid out in a listing view which will bring you to things like finding points of interests, route options, advanced planning, and changing the settings. One item we find extremely useful is the option to execute a local search using Google rather than relying on the default broken down categorization it implements. Moreover, it sticks to using the usual on-screen
keyboard
for inputting addresses – but still, you can't simply type in an address since it's done with a step-by-step process from narrowing it down from state, city, street, and number. So even if you're making the switch or using it for the very first time, its learning curve is very low and some will come to appreciate its relatively effortless approach.
Conversely,
Magellan's Roadmate app
resorts to sticking with extra large sized
icons placed in a grid like formation
to get into some of its core functions. Also fairly easy to navigate around after some time of usage, we like how it offers the OneTouch panel which is basically a list of some default and assigned shortcuts to instantly get you to where you want to go. However, it sticks to relying on an alternate on-screen portrait keyboard for inputting text – which is disorienting since it's not laid out in typical fashion. Though, each subsequent letter that's typed will slowly populate the corresponding address you're attempting to look for and keeps your gaze on the smartphone at a minimum. And as for points of interests, there's a bunch of categories to narrow down your choice, but it doesn't offer the ease of the Google local search offered by TomTom's app. Still, Magellan's Roadmate app seems to have a little more depth and functionality over the competition to make it one very well thought out application.
Navigation:
Between the two applications,
TomTom
's navigation interface only offers the bare essentials with its most pertinent content being found on the bottom most portion of the display. On the top, there are two small icons that launch the music player and TomTom Traffic – the latter of which requires a $19.99 yearly subscription.
Strictly using auditory guidance instructions, we're happy with the abundant and accurate levels of notifications it speaks out for upcoming turns and exits. However, we did experience an anomaly with it as every once in a while, especially with circles or jug handles, it would direct us to make a slight exit to keep on going forward; as opposed to staying steady on the same road. Aside from that, it offers the advantage of a pictured lane assist view that takes up the majority of display for most interstate highways – but it still shows a simpler view in the bottom left area. Easily the most appreciated thing is the app's suggestion of finding an alternative route to avoid tolls as you're initially planning it. Finally, the TomTom app quickly adapts to any missed or wrong turns that will instantly steer you towards the correct direction in no time.
Rather than coming in with a minimalistic approach, the
Magellan Roadmate
apps throws a lot of stuff on-screen which did make it rather confusing at first use. Outside of the actual map, the bottom area offers quick access to the music player, OneTouch panel, main menu, and cycling navigation information. On the top area, it displays the next upcoming course of direction which is supplemented with colorful exit numbers and associating arrows that make it easy to know what to do next.
Spoken instructions are naturally spot on, but we find it a bit on an inconvenience to set on/off the app to avoid tolls within the settings menu – rather than asking when planning a route. Regardless, impressive features like free real-time traffic alerts, location-based coupons & offers, highway lane assist, 3D landmarks, and find your car mode essentially rounds out its depth of offerings. Surprisingly, the "find your car" mode pops up whenever you reach your destination and allows you to know the exact location of where you parked your vehicle.
Conclusion:
After using both apps heavily for a week, we find Magellan's Roadmate app to offer an exceptionally rich and accurate experience that will be the perfect road companion for any travel. Moreover, it manages to outclass the TomTom app in the features department to drastically widen the gap between the two navigational apps. And when you see that both are priced at $59.99 for the North American maps, there's no arguing that the better value is found with the Magellan Roadmate app. Naturally, it definitely beats having to pay $9.99 per month for competing monthly services like AT&T Navigator, but one-ups TomTom since it includes free traffic alerts with its purchase. So if you're planning to ditch that dedicated GPS you have stored in your glove compartment, you might want to check out the Magellan Roadmate app first to save yourself the hassle.