Token's smart ring autofills your passwords, badges you into work, makes payments, unlocks your car, AND more
8

In a world filled with wearables of varied usefulness andquality, among the mediocre and the redundant sometimes floats a device thatseems to actually make life easier for people of this age. One such device purportedto do so is the Token Ring, a smart ring with a bevy of useful features – none ofwhich pertaining to fitness. Instead, this ring focuses on being your universalsecurity key for authentication of many kinds.
Token is a company headed by co-founders Melanie and SteveShapiro, who also co-founded Digsby, a company that specialized in managingonline social identities. Digsby was acquired by Tagged in 2011. Since then,Token was founded on the idea of ensuring internet users would never have tosacrifice convenience for security, or vice versa – enter the Token Ring.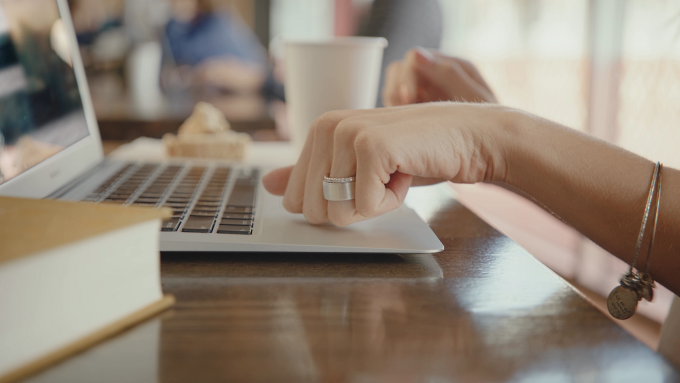 The Ring, pictured above, is equipped with Bluetooth and NFCconnectivity, as well as a fingerprint and optical sensor. Bluetooth is used toconnect to the companion app (compatible with Android, iOS, Windows 10, andMacOS) which stores credit card information, passwords, transit cards, carkeys, and even workplace access cards. Token will also be releasing a smartlockdown the line, which would enable the Ring to grant you access to your house aswell.
Password storing capabilities are designed to be seamless intheir integration with your devices, requiring only two quick knocks on a hardsurface to autofill your passwords. For mobile devices, presumably suchfeatures will be integrated into the companion app so that Android O's improvedautofill and iOS's keychain can access this easily. For non-mobile devices, Tokensays their API (Application Programming Interface) will be supported by GoogleChrome, Mozilla Firefox, and Apple's Safari browser so that "your Token ringwill be able to communicate directly with Gmail through Chrome with no appsinvolved for creating or using credentials." In the case of logging into aWindows Laptop, the experience is engineered to be just as simple. By simplyhaving your laptop connected to the Ring via Bluetooth and logging the passwordinto the companion app, your PC can also be unlocked with two quick knocks – a featureon which Token worked directly with Microsoft.
"We're thrilled towork with Token to make the Windows Hello experience even better. With itswearable design, Token logs you into Windows 10 seamlessly in a way that feelsnatural and familiar."
-Chris Hallum, SeniorProduct Manager at Microsoft
When the Ring is taken off, the optical sensor sees this andauthentication processes are deactivated. The Ring will resume its functions onlyafter re-authenticating the user through its built-in fingerprint sensor andbeing put back on. As a standalone device, the Token Ring is EAL5+ certified –the same standard of security certification used by IBM's mainframe computers.
Token also makes it easy for you to set up the Ring withyour car. If you have a push-button start, simply send Token a key FOB and theywill send back a Token Car Plug programmed for your vehicle. This plugsdirectly into your cars On-Board Diagnostics (OBD) console, enabling the same "knock-knock"authentication to open your car doors and start your car – presumably onlyrequiring the initial knock for entry.
NFC connectivity allows the Ring to make payments at contactlessterminals without the need for an account, as Android Pay and Apple Pay usersare required to make. Simply add your credit card information in the Token Ringapp, and mobile payments are as simple as a tap. Token has worked specificallywith Visa and Mastercard to ensure the Ring is accepted as a secure form of payment.
The NFC chip also allows Token's ring to replace transitcards for more than 50 NFC-enabled transit systems worldwide, with another 30scheduled to go live in 2018, including New York City. Adding to this issupport for HID SEOS, the technology used in most workplace badge readers. Thismeans that soon you can get in your car, take public transportation, and badgeinto work all with one little ring.
"How soon?" one might ask. The Token Ring is available forpre-order now with shipments scheduled to start in December 2017. The Ring iswaterproof up to 50 meters and claims a two-week battery life. Starting at $250for sterling silver, the Ring comes in 14K rose gold and black rhodium for anextra $50. Bundles also exist for those looking to pick up the lock and carplug, totaling $400 for all three.
Make sure to check out Token's official launch video!
source: Token via Digital Trends