Today is Apple Watch release date, so people start strapping fruit to their wrists
10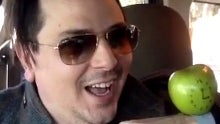 With stores on the west coast starting to sell Apple's wearable at 9:00 am PDT on a first-come first-served basis, the queues of Apple fans have already lined up, ready to start shelling out at least $350 for Apple's next big thing.
They might be in for a surprise, though, as according to a leaked internal Apple memo issued by SVP of Retail and Online Sales, Angela Ahrendts, "
due to high global interested combined with [our] initial supply
",
walk-in purchases of the Apple Watch
might not be happening in full force on April 24th, as intended. She was also telling Apple staff to encourage people to place their orders online, and assure them that they'll still get help setting up their new Watch either online or in one of the company's many retail stores.
The gadget will still be available for preview on-location, though, but with hundreds of strap-watch combos available, it's understandable that Apple would encourage you to order online, instead of stocking every single store with all possible variations. In the meantime, a viral... thing has started, with people strapping fruit on their wrist, and calling it a day. Check out the shenanigans below.
Recommended Stories