Ting to add Nexus 5 support
2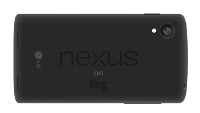 Sprint MVNO Ting, which hooks up its customers via Sprint's CDMA, 3G and 4G pipelines, is adding support for the
Nexus 5
. The company uses "ala carte" pricing and says it can save money for 88% of mobile users. At the same time, Ting says that it is willing to pay up to $75 of your ETF charge to get you to switch. With an average monthly bill per device of $21, Ting is doing what it can to add names to its subscriber list. And offering support for what is undoubtedly one of the most discussed Android handsets is another way for Ting to ring up some new customers.
First things first. You need to order the device and right now it might take as long as 4 weeks before your order leaves the warehouse. That gives you the time to get on the SIM card priority list. SIM cards for Ting are in "
short supply
" and that a visit to their early adopter thread might give you some ideas how to obtain the needed SIM card earlier.
By the time that you have the phone and SIM card in hand, a task that could take up to a month to complete, Ting will have an article up on its website detailing the steps necessary to get your Nexus 5 up and running on their network. Which is actually Sprint's network as you know. Ting says that there has been plenty of excitement around the Nexus 5 which isn't really news around these parts.
source:
Ting
via
AndroidCentral