Tim Cook says the rumor mill doesn't know about all Apple products in the works
35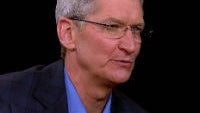 In this day and age, we tend to assume that everything leaks; or, at the very least, everything gets rumored, but that isn't really true. The big stuff, the major products that are inevitably coming to market will get rumored and leaked, but every company has plenty of other products in the pipeline that we never learn about, including Apple. Tim Cook took the time to remind us of this in a recent interview with Charlie Rose, during which he spoke on a number of topics, including Steve Jobs, the future of TV, and the competition with Google.
When speaking to Rose, Cook said, "There are products we're working on that no one knows about, yes — that haven't been rumored about yet." This isn't exactly a surprise, there are always products in every company that are tested or "kicked around" as Cook says. Some of those products go on to great futures, some don't do so well in the market, and some never make it out of research & development. Obviously, we can't say what Apple has in R&D, but Tim Cook did hint that TV is still on his mind.
A more aggressive Apple TV system has been rumored for years, and Cook was coy about his interest in going after the TV market, which he says is "stuck back in the '70s." Cook was talking about markets Apple would like to get into, but won't, and he was careful to not include TV in that category. Many other companies also want to be in the space, including Google and Amazon, so Apple will face competition. And, Tim Cook did admit that its biggest competition is Google, not Samsung, because Google is the company that enables Samsung to do what it does.
The Charlie Rose interview with Tim Cook has been split into two parts. Part one aired last night, but can be found in repeats throughout the weekend, and part two will air on Monday.