Tim Cook is second runner up for Time's Person of the Year
31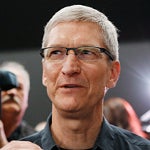 President Barack Obama not only was re-elected
after a tough campaign, he was also named
Time Magazine's Person of the Year
. 17-year-old Pakistani education and women's rights activist Malala Yousafzai, who was wounded by Taliban gunmen earlier this year, finished second. And the second runner-up spot went to a corporate chieftain you might have heard of by the name of Tim Cook. We are being a little facetious of course, because if you read this site, you probably know who Tim Cook is. While the Apple CEO has not had a banner year, Apple's stock has risen in value by
40%
since he took over last year from the late Steve Jobs.
the technologist
. And it was pointed out how opposite the more meticulous Cook is than his predecessor. In fact, Time said of the executive, "
he looks like something Jobs would have made. Cook's flawless cap of white hair could have been designed by Jony Ive and fabricated in China out of brushed aluminum
." It also takes a special kind of person to run a company sitting on $120 billion of cash and has a stock market value more than Google and Microsoft combined.
We saw a glimpse of the difference between the legendary Jobs and Cook when the
latter apologized for the disaster that was Apple Maps
, suggesting that iOS 6 users try a competitor's mapping application until Apple Maps is bullet-proof. On the other hand, when the launch of the
Apple iPhone 4
brought the Antennagate/Lefthanded death grip antenna attenuation, Jobs' reaction was far from an apology;
the CEO told millions of iPhone users that they were holding the phone wrong
.
It's a huge market with huge potential with an enormous emerging middle class that really wants Apple products. I think it will be our largest market, over time
." It didn't look that way this past January when a
delay in opening an Apple Store in the country on the date of the Apple iPhone 4S launch, led to violence
. Armed with a new system that gave those who pre-ordered the
Apple iPhone 5
an exact time to come into the store to pick up the unit,
Apple sold 2 million units in the first three days
that the phone went on sale in the country. One thing that Cook will need to figure out is
how to get the iPhone in with the world's largest carrier, China Mobile
. A proprietary 3G network has kept the phone away from the carrier and China Mobile has turned to the Nokia Lumia 920T,
built specifically for the operator's network
. But with TD-LTE coming to China Mobile next year, it is hoped that Apple can work something out which would allow the device to be sold on
all three of China's major carriers
instead of the two it is sold at now (China Unicom, China Telecom).
You can check out the entire Time article by clicking on the sourcelink.
source:
Time
via
TUAW