Tim Cook: iPhone 8 leaks behind flat iPhone 7 sales, but this 'bodes well for the future'
6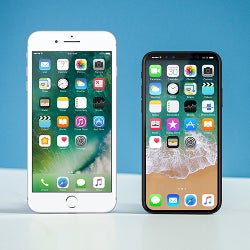 Apple made $8.72 billion this past quarter, meaning that
Samsung beat it in earnings
for a second time in its history. Still, that is 12% more than what it made the previous quarter, and in a period that is traditionally "soft" for iPhone sales, as most of the fans are on the sidelines, waiting to see what Apple will release in the fall.
That is exactly the crux of Apple CEO Tim Cook's comments when he sat down for an interview after the earnings were announced. "
We believe there is a pause, but that probably bodes well for the future
," he said while discussing the flat
iPhone 7
and
7 Plus
sales. "
We've got some momentum
," he continued. "
A lot of things we've been working on a long time are beginning to show in the results
."
A lot of things we've been working on a long time are beginning to show in the results
By the future he meant the upcoming trio of handsets that Apple is expected to announce in September, among which the exclusive OLED
iPhone 8
, According to Tim Cook, all the rumors and leaks about this new "all-screen" model, or the "
greater than normal discussions
," as he puts it, are the likely culprit behind the lull in sales of the 2016 iPhone crop. The argument is that people are simply waiting to grab this one, or one of the other two that Apple will eventually reveal.
The fact that Tim Cook is so optimistic for this current quarter might mean that he still expects some of the
iPhone 8
sales to go into the quarter ending September, which in turn will nullify most analysts' predictions that the iPhone 8 will be delayed. Industry watchers are saying that the last time Apple predicted such a wide (between $49 and $52 billion) revenue range for the summer quarter, was when it introduced the
6 Plus
. Even the midpoint in this forecast means that Apple expects iPhone 8 sales to be realized next month. Therefore, rumors that the OLED iPhone is
facing insurmountable delays
may be greatly exaggerated, as far as Tim Cook is concerned.