Tim Cook bringing more efficient supply chain and aiming for thinnest iPhone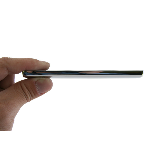 It's probably no surprise, but Apple is trying to make the new iPhone thinner. In fact, based on the numbers given by KGI Securities the next iPhone could be nearly 1.5 mm thinner than the iPhone 4S, which would easily make this the thinnest iPhone yet. Of course, even at that size, the next iPhone will still be over 1 mm thicker than
the thinnest smartphone
, the Huawei Ascend P1 S, which is due out this quarter.
shift to new in-cell touch panels
, which will help to make the next iPhone both thinner and lighter by compacting the display panel. Now, we've got the exact numbers for how much thinner the phone could be. According to KGI Securities, that change in the display panel alone will help to shave .44 mm from the thickness of the phone, and analyst Ming-Chi Kuo thinks the aim is to get in just under 8 mm, at 7.9 mm. This wouldn't make it the thinnest phone around, but it would certainly be one of the thinnest, and definitely the thinnest iPhone yet.
Kuo also points out that the switch to the new panel type makes a much more efficient supply chain, which is Tim Cook's specialty. Apparently, the new panel will allow for bonding the glass screen earlier in the manufacturing process, which will allow the company to avoid "significant losses" if the bonding fails. Additionally, the new panel and process would need half the number of items at the bonding stage compared to iPhone 4S. This would make the overall production process faster, and could even reduce the manufacturing time from 12-16 days to as little as 3-5 days.
As we know, Tim Cook as always pushed to make the production process more efficient because it allows Apple to keep less stock on hand at any time, which greatly reduces cost.