'Disappointing' new iPhone sales due to trade and spy wars may have forced Tim Cook's China trip
16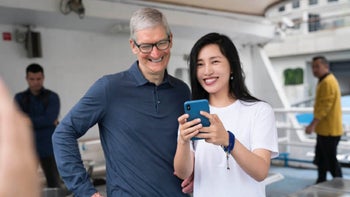 A lengthy report on Apple CEO's Tim Cook current visit in China shines a light on the real reasons he is traveling that far in a busy month for launches and announcements. No, it's not the Chinese "spy chip" scandal, this one was already debunked by Apple, but rather a real possibility that President Trump's trade war with China may hurt Apple's business.
Apparently, Tim Cook met with the Communist Party secretary there (yes, what a whiff of 80s nostalgia), whose office posted a statement that Apple could serve as a goodwill ambassador of sorts to the current fraught US-Sino relations situation:
We are willing to... find mutual benefit and win-win results, and to inject new vitality into Shanghai's development. We are hoping that Apple will play a bigger role in promoting exchanges and cooperation between Shanghai and the United States.
Apple's CEO, on the other hand, reportedly lavished Mr Li with praise in his turn, extolling the virtues of Shanghai's "
strong support and good service to the development of the company
."
Another local report, however, tips that Mr Cook is trying to stave off a potential sales disaster in the world's largest cell phone market. A perfect storm of negative attitudes towards American products due to the ongoing trade and spy wars initiated by the White House and the high
iPhone XS Max
price in China has resulted in "disappointing" sales of Apple's new iPhones according to a dealer channels' probe.
After all, the iPhone XS Max costs the equivalent of $1850 there, while at this price a Chinese customer could get two high-end Huawei handsets and spare some change for a celebratory dinner. Thus, Tim Cook's "charm offensive" at this time makes perfect sense and doesn't look like it is even remotely related to the "spy chip" stories, as he is even rumored to meet the Chinese president at some point during the trip.