This tiny accessory allows you to expand the storage space on any Android device
43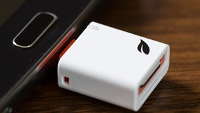 Meet Leef Access, a tiny card reader gadget that fits in your smartphone's micro USB slot and allows you to snap any microSD card in it. This way, you can benefit from additional storage space even if your device doesn't come with a microSD slot on board. Leef Access does exactly what you might expect from it - it enables you to transfer data between the device and the microSD card, as well as directly playback its contents on the device.
Leef Access is compatible with all Android devices, which are powered by Android 4.1 Jelly Bean or higher. It also supports almost every microSD card that you might throw at it.
"My phone is my computer. We all are doing more and more on phones and less on computers so a microSD reader for Android is a simple way to quickly move data,"
revealed the Lead Design Engineer behind Leef Access, Mark Schulte.
"As the data revolution leads more and more people away from computers, we recognize a need to make it easy and convenient for people to share data between mobile devices."
Design-wise, the Leef Access card-reading dongle comes with a longer connecting port in comparison with regular USB dongles. This way, you can still use the accessory with smartphones, which have either a case or a bumper put on them. In addition, the Leef Access dongle houses an additional slot, which allows you to store a second microSD card in it.
The Leef Access is a nice accessory for devices, which lack a native microSD slot on board, such as the
HTC One (M7)
, the
LG G2
, and the
Nexus 5
. If you decide to give it a go, the Leef Access will set you back $9.99.
source:
2Leef
via
Engadget