This little hack will speed up your Apple iPhone 5 on T-Mobile
12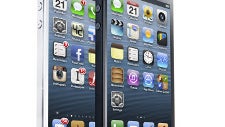 Nearly a month ago an
official carrier update
started arriving for the unlocked or AT&T Apple iPhone 5 devices on T-Mobile unlocking 4G LTE connectivity, but as good as that sounded, the same update also crippled speeds on the carrier's 1900MHz network.
It was obvious something was a bit broken in the update and two crafty hackers took on the task to find out exactly what. @joe012594 and @cooldayr2 bring the solution hacking the carrier update,
"increasing the amount of bandwidth allowing for better throughput of data and data connection."
Good news is the hack does not break any of the improvements that come with this update. The full instructions with plentiful technical details are at the source below and you don't need to have your iPhone jailbroken for this to work. This little hack works on both the official T-Mobile iPhone 5 and the AT&T or unlocked iPhone 5.
source:
TMoNews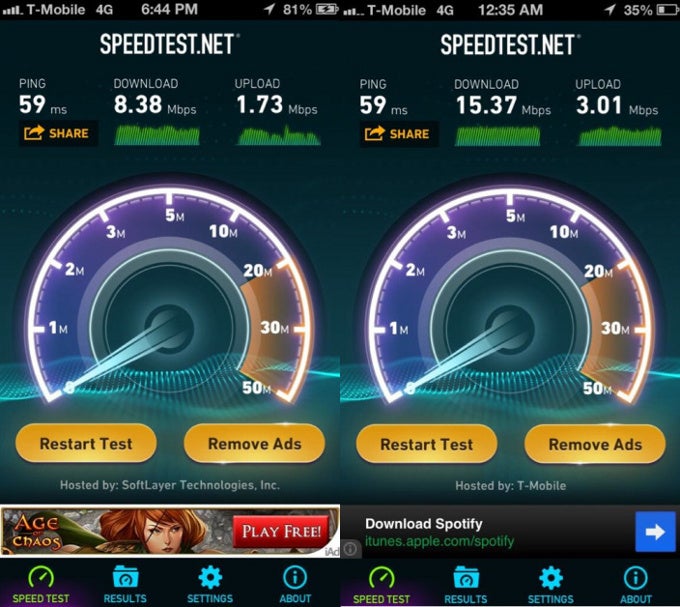 Before and after the hack.
Since many unlocked iPhone 5 users report weakened signal on the refarmed 4G HSPA+ and many iPhone users (unlocked or official T-Mobile versions) report slower data speeds, I have done many hours for many days doing research on what could be done to fix the issue. After partnering with @cooldayr2, we both have come up with the best possible solution to this issue. Below is a fix we have provided for all iPhone 5 users on the T-Mobile network. This will not take away any features added by the official carrier update nor does it require a jailbreak, however, we have made user friendly for both jailbroken and non-jailbroken users. If you have any issue, please tell Joe at twitter.com/joe012594. Thanks!

Non-jailbroken users:
1. Plug your iPhone 5 into iTunes and backup the device so you won't lose anything.
2. In the device itself, tap the "Settings" app and navigate to "General > Reset > Erase all content and Settings"
3. Once you have done that, the iPhone will auto reboot.
4. Download the hacked carrier update here:http://dc372.4shared.com/download/WF0uqJL-/TMobile_US_iPhone_Hack.ipcc?tsid=20130511-014618-1518f967
5. Once downloaded, your iPhone will boot up into iTunes. Before you do ANYTHING, make sure to decline any and all prompts to update carrier settings. Just choose to "Restore from backup" and let it run.
6. Once your iPhone has booted up once again, it will place all of your personal content back into the Phone. While it's doing this we're going to go ahead and enable iTunes to except custom carrier bundles, if it's not already.
7. Windows users, you will need to open command prompt and type the following and enter it in:
64 bit:cd "C:\Program Files (x86)\iTunes" then type: iTunes.exe /setPrefInt carrier testing 1
32 bit:cd "C:\Program Files\iTunes" then type: iTunes.exe /setPrefInt carrier testing 1
Mac users you will need to open terminal and type the following and enter it in:
Mac:defaults write com.apple.itunes carrier-testing -bool true
8. After this has successfully been entered in, click on the tab for your iPhone 5 and click "Update" or "Check For Update" while holding down the Alt / Optionkey for Mac users and the Shift key for Windows users. Navigate to where you downloaded the hacked carrier update file named "TMobile_US_iPhone.ipcc," and select it then click Open.
9. The carrier update should now successfully be installed. Restart your iPhone 5 for any changes to take effect.
10. If you encounter any problems or wish to revert back just download the file below and repeat the above steps only with the default file instead.
Default File:http://dc372.4shared.com/download/M3vMO7Pe/TMobile_US_iPhone_Default.ipcc?tsid=20130511-014357-883dcc09
Jailbroken Users:
1. Download the file to your device through iFile here:http://dc372.4shared.com/download/WF0uqJL-/TMobile_US_iPhone_Hack.ipcc?tsid=20130511-014618-1518f967
2. Unarchive the files and copy the file name "overrides_N41_N42.pri" then navigate to var/mobile/Library/Carrier Bundles/TMobile_US.bundle and paste it into the folder replacing the original .pri file.
3. Reboot your device for changes to take effect.
4. If you encounter any problems or wish to revert back just download the file below and repeat the above steps only with the default file instead.
Default File:http://dc372.4shared.com/download/M3vMO7Pe/TMobile_US_iPhone_Default.ipcc?tsid=20130511-014357-883dcc09