Using an unlocked Apple iPhone 5 on T-Mobile? An update will allow you to rock 4G LTE
7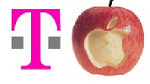 Back in January,
nearly 2 million unlocked Apple iPhones were running on T-Mobile's network
. The fastest speed that most of these customers can achieve on their iPhone is EDGE while some are able to score 3G speeds in refarmed areas. Now that T-Mobile has an LTE network that it has started to roll out and
will officially launch the Apple iPhone 5 on the carrier starting April 12th
, do any of these iPhone packin' T-Mobile customers get any crumbs thrown at them? The answer is absolutely yes.
A leaked T-Mobile internal document shows that there will soon be a carrier update that will allow T-Mobile's network to officially support iOS. Those with iOS 6.1.x will be able to use VisualVoiceMail, MMS and T-Mobile's LTE pipeline. That means that those of you who use an unlocked iPhone 5 on T-Mobile will be able to get 4G LTE speeds. The update should take place on Friday and from that moment on, it will be a whole new world for you unlocked Apple iPhone users on T-Mobile. Just make sure that you are running iOS 6.1.x. You know what? Why not just make sure that you're up to date with iOS 6.1.3. Just remember
that only 7 markets
are covered with the carrier's LTE signal at this time, but that number weill grow rapidly during the year.
source:
TmoNews

T-Mobile's carrier update will allow unlocked Apple iPhone 5 units to run over the carrier's LTE pipeline