This is why your Galaxy S8 display may be tinting red, software update to the rescue
26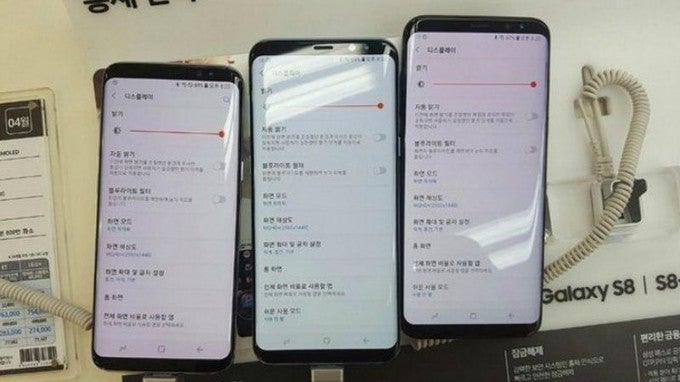 Some Galaxy S8 units have been showing red tint instead of the typical cold, blueish AMOLED colors
Some of the units in the first batch of
Galaxy S8
phones shipped over at the home turf in Korea, have shown
red tint on their display
. It's pretty unusual for AMOLED screens, which are with cold and saturated colors by default, and turn blueish at the slightest tilt of the phone even in the Basic display mode that closely follows the standard sRGB color gamut, so users have noticed the discrepancy immediately.
Granted, all screens differ slightly from factory to factory, and batch to batch, especially OLED displays, where laying millions of light-emitting dots uniformly for a particular color is pretty hard, but when the differences become overly visible, this might present a problem with the affected units. Samsung has already
addressed the issue over there
by saying that the color temperature can be adjusted in the display settings, if desired. It has also apparently issued a software update to service centers that addresses the color imbalance, too, so apparently its reps don't consider this a manufacturing problem, though the source does say that if that's found to be the case, Samsung will be replacing the affected units.
A Korean business publication has probed a few experts, as well as former Samsung employees, on the matter, and the opinions vary widely. One of the experts says that many screen batches experience problems like tinting or colored streaks on the display, including Apple's iPhones, but that it's especially true for phones like Notes and Galaxies, since "
for OLED panels, it's difficult to evenly deposit luminescent organic materials on panels, and this can cause discoloring
."
Other experts attribute the possible reasons to a glitch in the voltage current that drives the red pixels way too high, or to crosstalk of the various subpixel colors that seeps into the reddish side of the spectrum. One former factory employee at Samsung has commented that it will be difficult to address the discoloration with a software update if it is a mishap during panel sheet production, though other experts counter that, depending on the issue, "
a software update would be enough to balance out the reddish display to the extent that consumers are satisfied
." In any case, these seem to be rather isolated incidents which can be attributed to the usual teething problems when a brand new technology like the tall and curved
Infinity Display of the Galaxy S8
is produced in mass quantities, so we wouldn't lose too much sleep about it just yet. Unless we are the ones that happen to land a phone with a jolly reddish panel, that is.