This is what Hangouts will look like with more Material design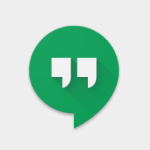 All of the Google apps have been undergoing the Material design makeover recently, but some have been going at a much slower pace than others. It took a few updates for Chrome to get the new UI all the way through, but many of the Play content apps got the update in one shot. Hangouts has been on the slower end, and we're getting a look at the next update that will bring more Material design.
Android Police
got their hands on an unreleased version of Hangouts, and it gives a glimpse at the changes that Google is working on with the UI. As you can see below (the old Hangouts app is on the left, the new version on the right), we're not talking about huge changes. The usual hallmarks of Material design are there, with the title bar color (which has been darkened a bit) extending to the system bar at the top. The hamburger menu icon has been shifted out, so it is fully visible; and, the hamburger menu itself has the account dropdown, and the menu now extends to the top of the display.
One disconcerting change is that the contacts list once again doesn't show whether or not your contacts are online. This was a major omission from the original version of Hangouts that took Google far too long to bring back; so, we're hoping that isn't going to be the case here. The "mood" setting option also appears missing, so again, we're hoping that all this will be back for the proper release of this update.
(as noted, the old Hangouts is on the left, and the new version on the right)