This is the new Google Calendar app for Android and iPhone
9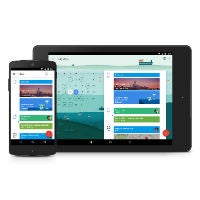 All Google apps are getting updates with the Material design makeover these days, but Google Calendar is set to not only get a new look, but a ton of new functionality as well. Google announced the new Google Calendar app today, which will be coming to Android users in the "coming weeks"; and, there is even an iPhone version in the works as well.
There are three big new features for Google Calendar. First is something that has been rumored for a while, and is finally here: automatic calendar entries based on Gmail messages. So, when you get an email for a reservation or appointment, the information will automatically be added to your calendar, "complete with things like flight numbers and check-in times". Even better, the event will be automatically updated if there is something like a flight delay.
Next up is what Google calls "Assists", but is essentially auto-complete suggestions for calendar entries. Calendar will learn your habits and suggest entries based on things you've done before, it will find places and pull in addresses and phone numbers for you and more. Last is an all new Schedule view, which gives you everything you need to do in a card list form. The nice thing here is that Google will automatically add images to entries based on context, so flight reminders will have an image of your destination, and dinner reservations have an illustration of food.
The new Google Calendar is available right now if you happen to have a Nexus 9, and will be rolling out to anyone running Android 4.1 or higher in the coming weeks. Google says it has an iPhone version in the works, but there is no word on when that might be released.