This iPhone 7 case is cheap, ugly, and an absolute boss!
12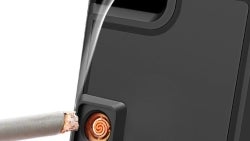 A case is usually something you'd rather forget about. It just stays there, on your smartphone, partly against your will and therefore annoying, but also satiating your rational mind with reassurance that your investment is protected against random glitches in the Matrix. This iPhone case, though, is man's best friend – only without the requirement of daily hangouts, occasional rabies shots, and funky odor at your place (
Disclaimer: I love doggies. Other people's doggies.
)
Check this out – first, the case by ZVE protects your iProperty like only an ugly, bulky, never-to-enter-a-club case would. You want to smoke a cig out of sheer appreciation for it. No problem, boss – light up with the case's built-in electric lighter to the tune of your friends' minds being blown. Is this the Cyberpunk future? Nope, just a wicked iPhone case that
means business
!
This case > your case
On your way to wherever Mission HQ has you going right now, you pick up a beer. Crafty by nature, you have busted open many bottles in your time by wielding the odd synergy between a pair of knowing hands and an used-up cigarette lighter. But you don't have one on you because your tricked-out iPhone case has lighting up taken care of, remember? So what do you do? Why, you whip out the case's
integrated bottle opener
and cleanly, confidently, dignity intact, disengage cap from bottle. Congratulations, you just unlocked cheat codes for Life, the hardest game ever!
Technologically, the case is made to last you a while. The electric lighter can ignite up to 540 cigarettes on a full recharge with your Apple Lightning Cable – that takes less than two hours. The bottle opener remains hidden when not in use, so it won't scratch stuff or break off. Finally, there's an 18-month warranty to give you some extended-release peace of mind.This power-item can be yours for $20 plus the added cost of having to live with just how darn ugly your uncannily functional case is. It's available for the iPhone 7 and iPhone 7 Plus.
Get it from Amazon
and tell your friends PhoneArena sent you there.