This graph shows how much the components of every Apple iPhone and Samsung Galaxy flagship cost
46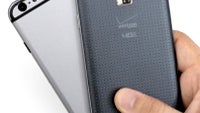 It's no news that Apple and Samsung have been battling over the top spot of the smartphone market for quite some time now. Each and every year, an iPhone and a Galaxy S enter the boxing ring and wage war for potential consumers. It's no news that these smartphones are not among the cheaper ones money can usually get you, as their flagship status is backed up by flagship pricing.
Then again, have you ever wondered how much does each of the components inside the representatives of these series cost? Well, a recent interactive report, released by IEEE Spectrum, claims to reveal the value of the more fundamental hardware components of almost all Apple iPhone and Galaxy S forerunners that we've been treated to during the past few years.
The report seemingly reveals that the iPhone 6 is Apple's costliest device ever, as the components for each and every
iPhone 6
set Cupertino back some $228.07, whereas the components of the
iPhone 5s
cost "merely" $211.50. In the meantime, over at Sammy's camp, the components of the
Galaxy S5
cost $215.44, just a tad more than the
Galaxy S4
's $214.54 bill of materials.
You can check the interactive graph below.
source:
Spectrum