This could be our first look at the Xiaomi Mi 6!
12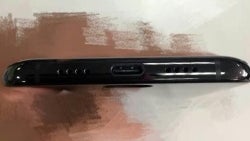 The Xiaomi Mi 6 is about to become matter of fact in a few days – April 19, we're told! It's about time some credible-looking photos of the upcoming phone showed up, as all we had up to this point was our imagination and concept renders. What we're showing here may or may not be the Mi 6, and may or may not be computer-generated – it's getting hard to spot a fake these days! However, what we're seeing somewhat looks the part.
At first, we thought someone's peddling us shots of the
OnePlus 3T
, but there's no question that this is a different phone. It's just that the Home button looks nothing like it did on the Mi 5 or other Xiaomi handsets, but such details are always subject to change. Moreover, the back panel sure looks like something Xiaomi could come up with, reminding us of the
Mi 5
's canted sides and matte black finish.
Furthermore, the dual camera we're seeing matches many of the
leaked specs
we've had of the Mi 6, and the bottom side is quite typical of Xiaomi - oblique shape, four speaker holes on each side, USB C port in the middle.
Chances are this could be the real deal, but honestly, the front panel looks too much like a Meizu or OnePlus phone for us to be fully convinced. Regardless, April 19 is in five days, we'll get a pretty good look at the Mi 6 at its official announcement. This will be a powerful phone, available in three variants targeting different price points. The entry level model is said to be running the MediaTek Helio X30 chip, while the other two are supposedly Snapdragon 835 devices.
ALSO READ
source:
Leakspinner (Weibo)
via
SlashLeaks