This app gives you the odds of your plane crashing
15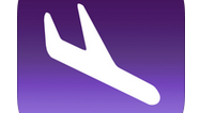 Are you a "white knuckle" flyer? Does the thought of you getting inside a plane absolutely scare you to death? You might find some comfort in an app frightfully titled "
Am I Going Down?
" Type in your departure and destination airports, airline and aircraft and the app will give you the probability that you will end up as a statistic with the FAA.
The app can compute the odds of a plane crashing for more than 10 million routes. It gives you the probability of an accident happening and also tells you how many years you would have to take a particular flight every day before the odds would favor a crash.
"Am I Going Down?" is available for iOS users only and costs you the equivalent of $1.21 USD. If you are a white knuckle flyer, it might be more than worth the cost. Knowing that you would have to fly the same route every day for over 7600 years, as the example in the slideshow reveals, has to make you feel at least a little more comfortable boarding the plane.
source: AmIGoingDown? (
iOS
) via
Gizmodo