This Nintendo smartphone concept is a gamers' dream
27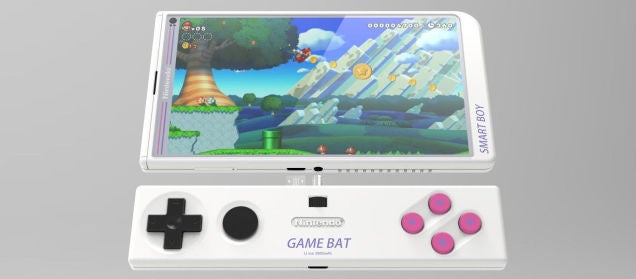 Just make it happen, Nintendo! The handheld gaming industry has basically switched over to phones almost entirely and given the powerful hardware available on smartphones now (yes, we have 14nm silicon that can run even games with demanding graphics), we see no reason why Nintendo has not yet made the dream of every (grown up) kid happen: the Nintendo smartphone.
The fact that a Nintendo smartphone for gamers does not exist does not stop artists and designers from imagining what it could look like though, and this latest concept by Pierre Carveau (hit the source link at the end of the article to see more of his work) shows how you can clip on the controller to have the Nintendo experience that you're used to.
Just make it happen, Nintendo!
As much as we love smartphones for gaming, we have to admit that using the touchscreen to control the action is more of a nuisance than a convenience, and hardcore gamers will agree that nothing compares to that tactile feedback and response you get from hitting a real, physical key.
Heck, just seeing these concept images of a Nintendo smartphone, we are already toying with the idea: imagine a phone with a custom Nintendo launcher with different themes and wallpapers for the fans, a couple of ingenious cases, and the tons of possibilities available. Yes, it's just a niche, but the whole video game industry started as a niche after all. Also, it would be just plain cool having a Nintendo smartphone, don't you think?
How would you make such a smartphone and would you want one?