This HTC One Bloom 3 concept has a metal body with curved edges
36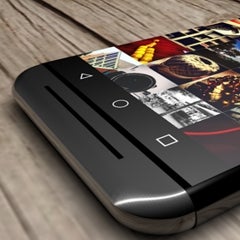 Not long after we showed you several HTC One (M9) concept designs (see
here
and
here
), we now have a new concept to check out - one that proposes a smartphone called HTC One Bloom 3. The concept was created by Hasan Kaymak, and is obviously not related to the real HTC.
Apparently based on Android 5.0 Lollipop, this imaginary HTC One Bloom 3 handset has a sleek metal body with curved edges, dual speakers on the front, and a screen of unknown size (it looks pretty big anyway). There's also a front-facing camera on the upper right corner. The handset's rear side hasn't been rendered, so we have no idea what it should look like. Moreover, there's no word on what specs the device is supposed to have. Anyway, the concept looks pretty cool - although, of course, you're free to disagree.
As almost always with concept designs, it's hard to believe that we'll see a real device to resemble the HTC One Bloom 3. Even so, check out the concept in the slideshow below, and let us know if you think it's worthy of the HTC name.