This Chinese smartphone is real and completely flexible, but we're sure not in a rush to get it
20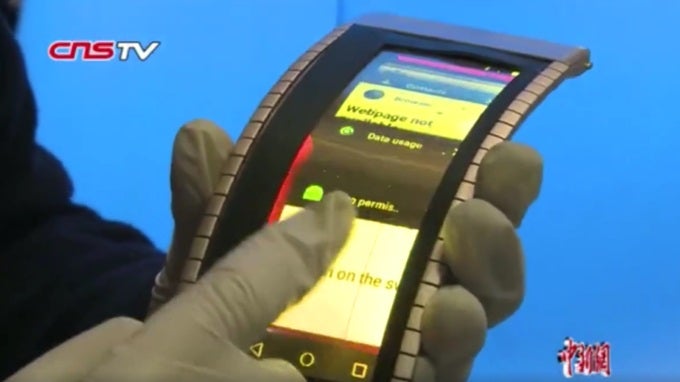 Smartphone makers have been dabbling in the design possibilities offered by flexible OLED screens for a while, but so far, no one had dared to go all out with a fully bendable handset. Samsung was largely expected to be the first to step in and show off a working device that bends in two like a straw, its operation remaining intact. But the big guy from Korea is keeping its enigmatic twisty apparatus,
shown only in sporadic patent leaks
, to itself until it's ready for prime time. Interim, a Chinese manufacturer no one in the West has heard of arrived at a trade show in the city of Chongqing, Western China, and pulled a fully bendable smartphone – it's screen made of the elusive material graphene – out of its pockets. It must have been quite the scene!
As you can see in the pictures, the Android-powered phone is fully operational and easily wraps around half the arm of a lady in the audience. The screen's image quality seems downright abhorrent from what we're seeing, and the usability benefit of being able to wear your phone like a bracelet isn't entirely convincing yet. But this device is clearly a technological showcase, rather than a product coming to retail in the near future. It's also full of promise. Bendable graphene and OLED screens will un-tie the hands of product designers and they will be able to come up with imaginative, unique stuff! In the era of smartphones that desperately try to convince us that they are something more than yet another metal rectangle, this is sorely needed.
While we don't have any more intel on the bendable graphene phone, there's a video available in the source link that shows the novel device in action. Perhaps this prototype will be remembered as a piece of tech history one day. Or maybe not. It doesn't matter, folks, the future is now within reach!