This Chinese knockoff drops Android 4.0 into a PS Vita shell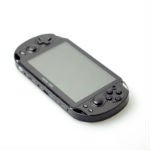 The Chinese knockoff market is something we usually don't delve into very much, because it has an incredible number of devices, almost none of which run Android with Google apps, and almost none of which are really worth talking about. But, the Droid X360 is one device that we would really like to see for a reasonable price on an import site.
The Droid X360 is not a mashup of Android and the Xbox 360 as you might imagine from the name. Rather, it is a mashup of Android and the PlayStation Vita. The device is built in a knockoff Vita shell complete with directional pad, dual thumbsticks, face and shoulder buttons you would expect, although unlike a PlayStation device the face buttons are X, Y, A, and B rather than square, triangle, circle, and X. The Droid X360 has a 5" touchscreen with a disappointing 800x460 resolution, a 1.5GHz A10 processor (no mention of core number), 512 MB of RAM, 8 GB of storage, and a 2 MP front facing camera.
Even better than the specs is possibly that the device comes preloaded with Android 4.0.4, and 9 video game emulators, including: arcade (MAME), Famicom (NES), Super Famicom (SNES), N64, Gameboy Color, Gameboy Advance, Sega Gamegear, Sega Genesis, and PlayStation (PSX). That's pretty sweet.