This Apple Watch knockoff was being sold at CES 2015 for $27
35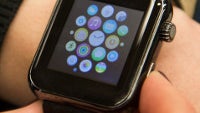 The threat of Apple's legal war machine is quite sufficient to ensure that competitors don't outright copy its products, but every now and then we've got smaller companies who are up to no good, and usually from China. That is exactly what happened at CES 2015 (which ends later today), for Chinese Hyperdon was spotted pushing Apple Watch knockoffs by
Mashable
.
The first Apple wearable won't be available until
some time in March
, but that hasn't stopped Hyperdon from coming up with a clone device that looks remarkably alike to what we've seen with the Watch already. Even the software, including the icons and design, is very much Apple, and even more Apple Watch.
But if you thought that Hyperdon was doing nothing more than showcasing its product at the busy floors of CES 2015, you'd be wrong – the company was actually selling it, and for just $27 in cash. According to
Mashable,
the rep that sold them their unit never even removed her glasses during the transaction, but that didn't stop her from claiming that the smartwatch has an embedded battery good for 180 hours of up time. The watch hooks up to your iPhone (or Android) device via Bluetooth and allows you to do stuff like place calls and play music, count your steps, set an alarm, and more.
Not bad for $27 – that is, unless it break within the week.
Recommended Stories