This $5900 Gresso iPhone is made for female executives
25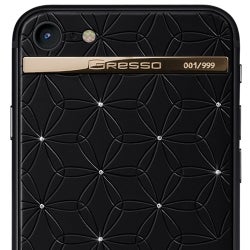 Smartphones designed for women are a rare sight – especially ones that look like luxury brand Gresso's Diva, a rework of the
iPhone 7
designed for female executives. The brand boasts that Diva is the first women's premium iPhone designed in a luxury minimalism style, and pits it against other luxury smartphones for females that are typically designed to be
"flashy, pink and opulent."
Gresso says that the Diva
"matches an executive women's sophisticated and modern style with a feminine touch."
The reworked iPhone 7 features a black titanium body, engraved with geometric or paisley patterns and encrusted with eleven .01kt diamonds. There's also an 18kt yellow or white gold inlay. Only 999 models will be made in all, with each taking up to 18 hours to assemble. The price starts from $5900.
Previously, Gresso unveiled a $500,000 luxury iPhone 7 that's so exclusive, it's limited to a three pieces run. The brand is also known for its high-end iPhone cases, as well as its own line of Regal smartphones. What do you think of Gresso's modifications to the iPhone 7?
ALSO READ