Think thin - here are the five thinnest large-screen smartphones
14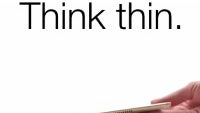 Thinness has always been an attractive characteristic for electronics from an aesthetics perspective. And lately, smartphone manufacturers - especially those hailing from China - have been obsessed with it! From the practical standpoint of the end user, the trend of slimming down bezels and frames makes little to no sense. But to technology makers, it means another weapon in the competition-cutting arsenal. Packing the most cutting-edge technology possible within the tightest of confines stands for an impressive design and engineering achievement that showcases the best of the company's abilities.
That's why Vivo and Oppo made their sub-0.19in / 5mm-thin phones, and Huawei made such a fuss about the Huawei P8max being the thinnest large-screen smartphone yesterday. Our readers, however, were quick to burst Huawei's marketing bubble - the Sony Xperia Z Ultra remains the thinnest large screen smartphone out there. And while we're on the topic, there are four more of them to consider:
Sony Xperia Z Ultra - 0.26in / 6.5mm
At launch (July 2013), the Xperia Z Ultra was the thinnest 6.5mm watertight phone with the largest 6.44" screen. In 2015, Huawei went on to dwarf Its elephant display size, but the Z Ultra is still the thinnest large-screen smartphone. Back in the day, it used to offer flagship performance too - it runs on a 2.2 GHz Snapdragon 800 chipset, which is still a potent piece of silicon. Moreover, the Xperia Z Ultra allows you to write on its screen with any regular pen or pencil whose tip is more than 1mm in diameter, in addition to stylus input functionality.
Huawei P8max - 0.27in / 6.8mm
Huawei miscalculated when it announced the P8 Max as the world's thinnest large-screen phone, because the Z Ultra is still 0.3mm thinner. But this doesn't change the fact that the P8 Max has a very large screen, and is also very thin. It wields a giant 6.8-inch screen, but it has a slim 0.27in / 6.8mm frame. It also boasts a formidable specsheet that sings to the tune of 8-core Kirin 930 CPU, Mali-T628 GPU, 3GB of RAM, and a humongous 4360mAh battery that will keep the lights up for quite some time!
Xiaomi Mi Note Pro - 0.27in / 6.95mm

The Xiaomi Mi Note Pro is the Chinese upstart's answer to the Apple iPhone 6 Plus - it looks about as good, and its spec sheet sound much buzzier on paper. The 5.7-inch phablet features a 1440x2560 resolution screen from JDI, which makes for a peppy 515ppi pixel density. It's also outfitted with as much as 4 GB of RAM that handles computing together with a Snapdragon 810 CPU. It's a genuine superphone, but that's not all. It also rocks a 13 MP rear Sony camera with optical image stabilization, and a 4 MP UltraPixel front-facing unit. The little that isn't filled out by flagship internals is taken by a 3090 mAh battery.







iPhone 6 Plus - 0.28in / 7.1mm

The iPhone 6 Plus needs no introduction at this point. It is Apple's largest smartphone ever and offers a 5.5-inch display with a resolution of 1080 x 1920 pixels, good for a pixel density of 401 ppi. It is powered by Apple's 64-bit dual-core A8 processor along with an 8-megapixel iSight camera with optical image stabilization and a two-tone LED flash.




Huawei Honor 6 Plus - 0.28in / 7.5mm

In addition to a dual camera setup, the phattest phablet in our line up flaunts a 5.5" 1080p display, 1.8 GHz octa-core Kirin 925 chipset, 3 GB of RAM, and 32 GB of storage, plus a microSD slot for expansion. In that ample bodied smartphone, Huawei fit a generous 3600 mAh battery unit - as you can, the Chinese mogul has a steady track record of making huge batteries happen in portable handsets. Since you'll probably ask, that rear camera takes 13 MP shots, but actually consists of two 8 MP sensors with 1.85 micron-sized pixels and a dedicated image signal processor. One of the cameras dons f/2.0 aperture and autofocus, while the sidekick sports f/2.4 and a fixed focus setup.