Thieves steal five Apple iPads from Microsoft, leave everything else alone
61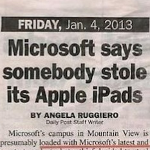 Palo Alto Daily Post
tells the story of some rather discriminating thieves who broke into Microsoft's campus in Silicon Valley. The good news for Microsoft is that nothing with the Microsoft name was taken. The bad news is that the thieves made away with
five Apple iPads
. Now, no one likes to get ripped off, but it also hurts to get your brand name dissed by thieves over that of one of your rivals.
Stolen from the campus were two
Apple iPad 2
s, two
third-generation Apple iPad
s and one
fourth-generation Apple iPad
s which was mistakenly referred to as the Apple iPad 4. The paper said that the thefts occurred between December 19th-26th and the value of the tablets taken added up to over $3,000. The paper erroneously said that the Apple iPad 4 had not yet been released. Showing that he is not much of a tech buff, Police Sgt. Sean Thompson attributed the inclusion of the Apple iPad 4 on the report as a typo. And this guy is a sworn peace officer in
Silicon Valley
? Hmm.
source:
9to5Mac