They see me scrollin' they hatin': what the 90Hz OnePlus 7 Pro screen means for you
7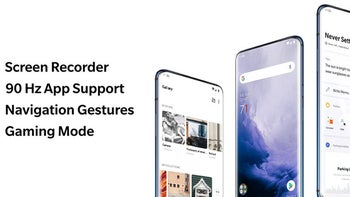 While it may have come as a surprise for OnePlus fans that two very different models were just released - the 7 and 7 Pro - it shouldn't have been for everyone that has followed the recent developments in flagships and 5G-capable phones.
Apple issued three phone models last year, Samsung followed suit with four, including a 5G version, and Huawei has three members of the new P30 family, while LG makes do with "just" two models as well.
That's exactly the strategy that OnePlus seems to be pursuing, reportedly equipping the 7 Pro with not only a 5G modem version, but also a huge battery and a unique selling point in the form of a high-res display that sports 90Hz refresh rate, up from the usual 60 frames per second on most phones.
90Hz vs 60Hz OnePlus Pro 7 display
The higher, 90 times per second screen redraw of the 7 Pro should help with gaming, scrolling blur, transitional animations and other situations where higher refresh rates are preferable.
Not only is the Fluid OLED screen with the top refresh rate this side of a Razer phone, it also got the highest rating for its more mundane display virtues from the rigorous testing grounds of
DisplayMate
. The screen got record scores or results equal to the best in a number of important categories:
Highest Absolute Color Accuracy (0.8 JNCD)
Highest Image Contrast Accuracy and Intensity Scale Accuracy (2.20 Gamma)
Smallest Shift in Color Accuracy with the Image Content APL (0.3 JNCD)
Largest Native Color Gamut (111% DCI-P3 and 140% sRGB / Rec.709)
Lowest Screen Reflectance (4.6 percent).
Smallest Brightness Variation with Viewing Angle (22 percent at 30 degrees)
Despite that the DisplayMate testing shop has been slapping its highest grade to each and every mobile phone display it's been given to evaluate in recent memory (Galaxy S10, iPhone XS Max or Pixel 3 XL panels all got top scores there), it certainly looks that the display promises that OnePlus hurled to us from the stage weren't empty ones as sometimes happens when an overzealous marketing team takes the reigns. It's not only the fast refresh rate that is the culprit behind the good grades, and there is more to the One 7 Pro display than the 90Hz number.
Speaking of which, it can apparently be turned on or off at the moment, to save on battery life, while a dynamic refresh rate adaptation should be
coming with an extra software update
at some point. That's not really surprising given how hard it is to recognize whether the phone should boost transitional animations, a gameplay begging for higher refresh rate, or simply scrolling in the browser. A dynamic refresh rate will probably be a hit or miss feature at the beginning, but the OnePlus 7 Pro is a start, and a promising one at that.