These are the airlines with free Wi-Fi internet access on their flights
16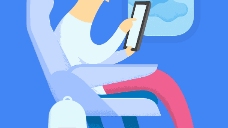 This post is brought to you from the sky... quite literally. It was written on board a Boeing aircraft flying 36,000 feet over the Atlantic Ocean. Witchcraft? No, far from it. Many major airlines now offer internet access to their passengers through an on-board Wi-Fi connection. Data is delivered via satellites or from ground-based cellular antennas beaming 3G/4G airwaves at the sky.
In-flight internet access, however, is still quite the luxury. In most cases, you'll have to pay between $5 and $10 for an hour's worth of all-you-can-eat data – enough to tweet about how expensive the service is, but insufficient to keep you entertained on a lengthy trip. And a daily pass could cost you around $30. Ouch!
Yet did you know that some airlines provide their passengers with free internet access for the duration of their flights? Yup, and the perk is not limited to businesses class passengers only. The next time you travel with one of these companies, be sure to have your phone's battery filled up as you'll be enjoying some of that free Wi-Fi goodness.
Norwegian Airlines

has high-speed broadband on flights within Europe. The service is available on the company's Boeing 737-800 aircrafts.

JetBlue

has all of its Airbus 321s and most of its A320 planes equipped with Wi-Fi gear. There's a catch, however. The free access option imposes restrictions on your connection. To go online at full speed, you'll have to buy a pass.

Hongkong Airlines

has free Wi-Fi on its Airbus A330-200 aircraft operating from London to Hong Kong. The connection speed, however, is limited for those using a free pass.

Air China

's free Wi-Fi service comes with a catch. Passengers cannot connect to it from their smartphones as these are not allowed to be on during flights. Tablets and laptops, on the other hand, are A-OK.

Nok Air

provides free Wi-Fi internet access on domestic flights throughout Thailand. The service is only available on two aircrafts, however.