These are the 11 best-designed apps, according to Google's Android team
15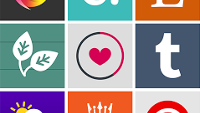 Yesterday, the team behind Android over at Google posted its newly updated Beautiful Design Winter 2013 Collection chart, succeeding its previous ranking from the summer earlier this year.
These, as you can guess, rank some of the most attractively-designed apps one can find on the Play Store, though the Android team does note that the apps that made it on the list are also ones that go beyond compliance with its own guidelines on design:
"
As a reminder, the goal of this collection is to highlight beautiful apps with masterfully crafted design details such as beautiful presentation of photos, crisp and meaningful layout and typography, and delightful yet intuitive gestures and transitions.
"
In other words, while beauty may very well be in the eye of the beholder, rules are rules and if app developers want to get the extra publicity, then adhering to the aforementioned principles is the way to go.
A total of 11 apps got a special mention, though only two are veterans from Google's last such ranking – Pinterest and Grand St. – the rest are all new to the list. Lets go through the full list right below: