These Microsoft-backed trousers can wirelessly charge your Lumia Windows Phone handset
18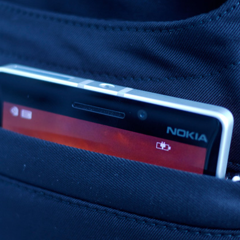 Microsoft recently teamed up with British fashion designer A. Sauvage to create the world's first trousers that can wirelessly charge a smartphone.
Showcased in London earlier this week, the trousers use technology from Nokia's DC-50 portable wireless charging plate, and they can charge a compatible Lumia Windows Phone handset when the device is placed inside a pocket.
The innovative trousers will be available to buy "soon" via Amazon (only for a limited time, though). Their price hasn't been announced, but, according to Business Insider, their designer believes it will be "over $340". The problem with these pants is that they can't be washed - so you'll probably not want to wear them too many times. They're more like a prototype for now, but one that's going to be commercially available.
"We have a proud history of working within fashion, having previously collaborated with Bruce Weber and David Bailey, as well as recent partnerships at New York and London Fashion Week. Continuing this theme, we are excited to work alongside a talented designer such as A. Sauvage. As well as having the vision to co-create these amazing wireless charging trousers, his style complements the cutting-edge design of the new
Lumia 930
smartphone perfectly," declared Adam Johnson, Marketing Director for Microsoft Mobile (UK and Ireland).
So, what do you think about these wireless charging trousers? If you like the idea, Nokia allows you to win a pair - but only if you're based in the UK (see the second source link below).
sources:
Nokia Conversations
,
Nokia UK
,
Business Insider