These 8 paid iOS apps are now free for a limited time
6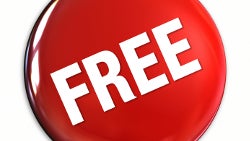 It's always fun to run through the list of paid iOS apps that are now free for a limited time only. You never know when you might come across a gem that might set you back a few bucks normally, but won't cost you a pretty penny right now. Because we never know when the developer starts charging again, once you find an app you want, snatch it up immediately if not sooner!
One of the most unique apps is Calories. Instead of telling you how many calories you've burned following some exercising, this app tells you what exercises you need to do, and for how long, in order to burn off a certain number of calories. For example, instead of finding out that you just burned off 15 calories by walking around the block, you can discover that to eliminate 100 calories you need to swim five laps.
Check out all eight paid iOS apps that are free for the moment by clicking on the slideshow below.
Certainly there is at least one freebie here that you can use. Before you turn on the television to binge watch the
Impractical Jokers
, go through the list and install the apps you want right now before it is too late. As usual, we need no thanks. We're just doing our job.
source:
BGR