These 15 Android icon packs will improve the looks of your homescreen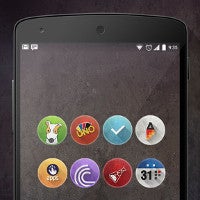 Getting tired of staring at the same old app icons day in, day out? Then what you need is a new icon pack, and thankfully, those are more than plentiful – the Google Play Store is, frankly, littered with those.
But you don't want just any icon pack. What you want is a mix between aesthetic appeal, support for your particular launcher, and as many styled icons as possible. Yeah, you read that right – these packs won't change the appearance of
absolutely
all
app icons, but rather the more popular ones. So the more apps that are covered, the better.
Unfortunately, unless you're using a third-party launcher like Nova, Apex, Aviate, ADW, or whatever else has your fancy, you'll need a rooted device to apply an icon pack with most stock launchers.
There used to be a way
, but the app in question was taken off the Play Store for unknown reasons.
Anyways, now that we've done away with the disclaimers, let's get ourselves some icon goodness.
* Arranged in no particular order.