There's a new Android gaming console in town - Razer unveils its $99.99 Forge TV with SD805 inside
22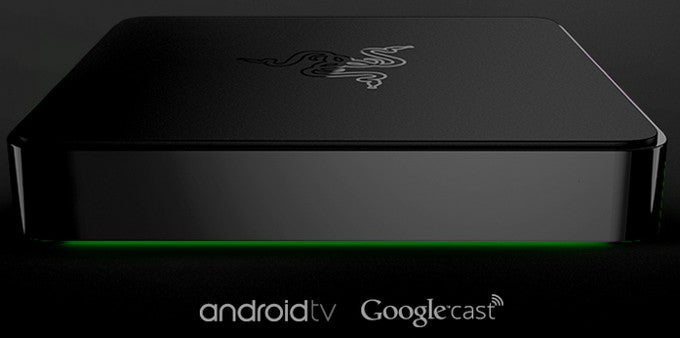 Although they're not as popular as their more powerful full-blown cousins, Android consoles certainly have a place under the sun. The OUYA is surely among the more popular ones, but we have a brand new kid on the block, and it's made by one of the big players on the market for gaming accessories - Razer. That's right, apart from gaming-centric paraphernalia, the maker has made a number of smart standalone gadgets (like the Razer Nabu smartband) and its new gaming console, the Razer Forge TV, now joins the portfolio. It allows gamers to play Android games and... even PC games (more on this below).
Powered by a mighty Qualcomm Snapdragon 805, comprising four Krait 450 cores running up to 2.5GHz when heavier games or tasks require it, 2GB of RAM, and 16GB of available storage, the Forge TV surely can hold a candle to some of the more recent top-end Android phones. But we are dealing with a console here - thus, we have to continue our specs inspection of the Razer Forge TV by checking out its GPU. Naturally, it ships with a 600MHz Adreno 420 GPU, which is the usual companion of the Snapdragon 805 chipset. It will run on the sweet, sweet Android 5.0 Lollipop.
The console will urn on Razer's proprietary Razer Cortex streaming feature, which enables you to mirror PC games straight to the console. It is said that it paves the way for low latency during the resource-hungry streaming process, which will probably stand high in most gamers' books. Razer Cortex will allow you to stream any PC game, provided that the latter relies on DirectX 9 or higher.
Apart from games, the Forge TV also allows you to cast and stream music, videos, and even Android apps straight on your TV. Android TV is also a part of the specs sheet. Its biggest highlight, however, is its ability to stream whatever PC game you might throw at it. The gadget will be out in Q1 2015. The basic version comes sans a controller and costs $99.99, while the controller-enabled one will set you back $149.99.
source:
Razer
via
TechCrunch