The weird Light Phone starts shipping this month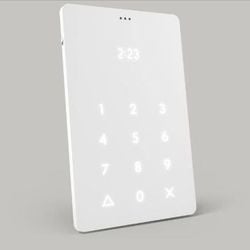 If you've never heard of the
Light Phone
, you're not alone. Not only because it's a bizarre invention, created for smartphone users who don't actually want a smartphone, but also because it's been in development limbo for some time now.
The Light Phone is a concept, introduced 18 months ago on Kickstarter. It's a no-features calls-only phone device, which you would use if you want to spend a day without any distractions. The basic idea behind it is to eliminate constant notifications, messages and whatnot. You just need to forward all calls from your smartphone to your Light Phone and, voila, you won't get distracted by Facebook, but you won't miss an important call either.
Now, there's a tiny bit of a problem with that concept. Why would you pre-order such a thing for $100, instead of turning your mobile data off? It will basically do the same thing, right? Well, it appears that a lot of people disagree, as the Light Phone raised a bit over $400,000 on Kickstarter.
And despite failing to reach its goal, its creators promised to deliver it in the end, be it with some delay. The Light Phone was supposed to start shipping in June, then it was pushed to the end of August, and now its long overdue launch is supposed to happen in two weeks. According to the latest press release by Light Phone creators, the first units will go out to their new owners on November 30, and will arrive to their destinations in December. The company will continue to produce and ship batches of the device
"the following weeks"
.
Some backers have already given up on the device, though. And not only because of the huge delay. The Light Phone can only operate on 2G networks, which are extremely outdated. In fact, Vodafone Australia and AT&T are prepping to shut their 2G networks down in a few weeks time, and they're not the only ones. This means that for their customers, the Light Phone would be practically bricked. The good news is that backers who won't have access to 2G networks will be refunded by Light Phone's creators.
If we had to guess, we'd say that the Light Phone is a major flop. It's a $100 no-features phone, competing in a market where you can get the same functionality for $20. It supports 2G, and 2G only, making it unreliable and in some cases even unusable. Its only pro would be the cool design, but honestly, we wouldn't pay $100 for a pretty paperweight.
source:
Light Phone
via
TechCrunch