The vast majority of our readers have never experienced Virtual Reality (poll results)
12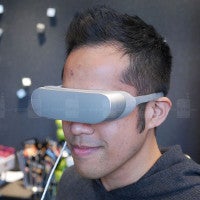 It doesn't take a visionary to see that virtual reality, or VR for short, has a pretty good shot of propagating as a technology up to a point when most—if not all—households will have one on their bedside table. And sure, as all emerging technologies, there are hoops to jump through, hardware to miniaturize, and software to develop. But judging by the progress already made, VR is well on its way to becoming a part of our life.
But how many among us have actually tried it out in person? That's what we sought to answer when
we asked you yesterday
, and we've now closed voting in order to count the virtual ballots. Turns out, despite being overall more tech-savvy than the average person, the vast majority (~61%) have never experienced virtual reality. Furthermore, some 12% say they've only immersed themselves in VR just once, while 10% have tried it just a few times. That leaves us with a paltry 17% who actually own a VR headset and therefore have regular access.
Sure, it's just one sample, but in this case we feel it's indicative of our audience. In fact, it's not a stretch to imagine that a larger sample, with respondents from all walks of life, would yield an even more meager adoption rates. So there's still a long distance to cross for the new paradigm, but it's definitely fair to say that we're already moving along.