Have you ever tried VR (Virtual Reality)?
82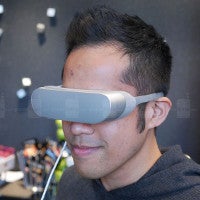 It's no secret that the editorial team at PhoneArena isn't exactly crazy about super pixel-dense, Quad HD displays. Especially when such resolutions are offered in smartphones with a display the size of an adolescent's palm. Whatever specsmongers may say, that's just too little a physical area for all these extra dots to do much in terms of improving user experience. At the same time, the trade-offs are pretty significant: a higher strain on the processor and, therefore, more battery drain.
Quad HD panels have one redeeming quality, however, and one that our readers are always happy to bring up: Virtual Reality, or VR for short. Indeed, when you have your phone slapped right on top of your nose, and it has to provide enough information for both your eyes, the more pixels, the better. In fact, even Quad HD is far from ideal for VR, and after testing out the Xperia Z4 Premium's 4K display at MWC 2016 just a week ago, we've got to say that even that's not detailed enough.
So that's a solid advantage, right, well at home in the pro column? Absolutely... if you're actually part of the still elite minority of early VR adopters. In our experience, and from what we can tell, the vast, vast majority of people on the planet, even in westernized countries, have yet to experience VR, let alone own an actual VR headset. Of course, our audience—specifically users that consistently participate in polls such as this one—are far more tech savvy than the average Joe out there, so it's probably about time we took the opportunity to get a head count. Have you tried VR? Do you own a VR headset? Or is it still alien to you?