The upcoming iPhone 5S and affordable iPhone were planned under Steve Jobs, slips Apple's liaison officer
22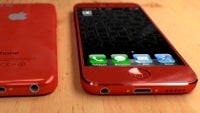 Apple's government liaison Michael Foulkes recently sat down with the San Francisco District Attorney George Gascón, and they spent an hour long talking session, which was supposed to clarify Apple's opinion on implementing a kill switch for its phones to clamp down on mobile device theft that is apparently proliferating.
As every self-respecting liaison officer, Michael Foulkes talked a lot without committing to anything, but in the effort to convince the DA how hard it is to design and develop a handset, let alone implement a kill switch in these late stages, he slipped and said that the next two iPhones have already been developed, and they even "
preceded Tim Cook
".
What this means is that the plans for the
iPhone 5S and the affordable iPhone
that are expected to be unveiled this summer, have been in the making during the Steve Jobs times, which we knew to be true for the inexpensive iPhone version, but not for the iPhone 5 upgrade that will follow this year. All told, it seems that 2014 will be the year when the iPhone franchise will start carrying the Tim Cook legacy in full, so we can't wait to see where Apple's CEO will be taking the company next year.