The original Motorola Moto 360 will not be updated to Android Wear 2.0
28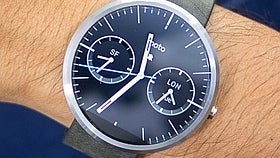 Motorola has announced that the original Moto 360 smartwatch will not be updated to
Android Wear 2.0
, the revamped wearable version of Android that Google unveiled a couple of weeks ago at the I/O conference.
Earlier today, Motorola started pushing a security update (which is not related the Android Wear 2.0 update) to the second-generation Moto 360 smartwatch. A few hours later, Motorola's support team responded to a Twitter inquiry into the availability of the update for the original Moto 360. Obviously misinterpreting the question, the support team revealed that the original Moto 360 will not receive the Wear 2.0 treatment:
Unfortunately, Moto360 1 Gen will not receive the new update 2.0
Compared to its predecessor, Android Wear 2.0 brings a revamped UI design complete with new Material Design principles for Wear 2.0, standalone apps, support for handwriting recognition, as well as automatic fitness tracking. It turns out that the original Motorola Moto 360 isn't getting any of that, but at least the company announced that the smartwatch will continue to get essential patches.
Fragmentation has always been one of Android's disadvantages compared to iOS, its main and apparently only rival. Google's latest numbers show that only 10% of active Android devices run on 6.0 Marshmallow or later. By contrast, iOS 9 is installed on more than 84% of active devices.
Unfortunately, it looks like the wearable version of Google's OS is going to inherit the fragmentation issues that have plagued the standard version of Android in the past few years.
What do you guys think, is anyone surprised to learn that a device that Motorola originally launched back in September 2014 has stopped receiving major Android updates?