The new material: sapphire to come where there was plastic and glass in smartphones before
24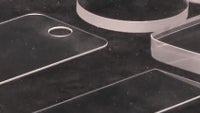 Sapphire is the new glass. Not exactly, but where glass and plastic ruled supreme, this relatively new material for smartphones is getting more recognition with the
Apple iPhone 5s
and its sapphire-covered home key leading the way. Other companies will use sapphire too in their smartphones and it will become more popular in the near future, according to research from IHS.
Sapphire is the world's second-hardest stone after diamond and is used to cover camera lenses, buttons and displays. Sapphire ingots are measured by the kilometer, and the increased use in electronics has contributed to a massive spike in demand. From 32 kilometers in 2012, by the end of this year total demand is expected to reach 54 kilometers. And by 2016 that number will grow even higher to a whopping 84 kilometers.
Sapphire is mostly used for LEDs, but its use in smartphones is expected to grow from 5% of the total demand to a whopping 20% in 2014.
Now,
sapphire is touted to be more scratch resistant than glass
and generally a stronger material. Corning however challenges that with its Gorilla Glass 3 technology as it claims it has achieved similar and even better scratch resistance. Either way, sapphire is the new material used in Apple's home key to protect the fingerprint scanner, and it's also on smartphone camera lenses.
source:
CNET