The new Nokia 222 is a $37 feature phone that can last through about an entire day of phone calls
16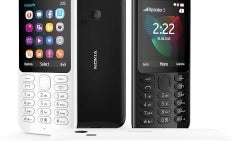 As Microsoft prepares to launch Windows 10 Mobile later this year, the company has just announced the Nokia 222, a new candybar feature phone aimed at value phone buyers.
The Nokia 222 will not impress anyone through its hardware specs, although its affordable price of just $37 doesn't really recommend it as anything but a backup device in developed markets or as an affordable communication device in emerging countries. The feature phone runs Nokia Series 30+ as the operating system and comes bundled with a few apps that make use of the 2.5G data connection, such as the Opera Mini browser, Facebook, or Twitter.
The Nokia 222 comes with a 2.4-inch display running at a resolution of 120 by 160 pixels. Under the hood, Microsoft fitted in an 1100mAh battery that is claimed to last through 20 hours of talk time and more than 20 days of idle standby. It's easy to see how the battery life of this handset is a major strong point for users who spend their days talking on the phone.
In the camera department, the Nokia 222 comes with a 2MP camera on the back. Photos taken at this resolution will certainly lack the details that most current-generation smartphone cameras can capture, but the camera could come in handy for capturing the occasional moment.
Other Nokia 222 specs include an FM radio, an MP3 player app, support for microSD cards of up to 32GB in size, as well as an LED flashlight. As a nice little hardware bonus, Microsoft will also sell the Nokia 222 in a dual-SIM variant.
Both the single-SIM and the dual-SIM versions of the Nokia 222 will launch in September in various markets across the globe. As far as the color options go, the feature phone will be available in either black or white with matching keyboard colors.
After purchasing Nokia for $7.2 billion back in 2013, Microsoft has since stopped using Nokia's brand on new Windows-based smartphones. As far as feature phones go, however, Microsoft is still milking the Nokia branding, one that's associated with quality candybar phones in most emerging markets around the globe.
What do you guys think of the Nokia 222? Will you be grabbing one as a secondary phone that can last through almost an entire day of phone calls?