The never-released WinsorNot webOS phone finally comes to light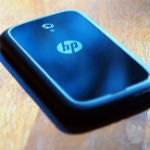 HP purchased webOS with the intention of bringing it back from the ashes of Palm, but that never really worked out. HP only released a few devices running webOS, the most popular of which was the Touchpad tablet, and the Touchpad only got popular when the price dropped to $99 and it was purchased in bulk by Android hackers. But, it seems that HP did have plans for another webOS phone after the Pre 3 and the Veer. It was codenamed WinsorNot and images of the never-released phone have finally come out.
The WinsorNot was a device named after a previously cancelled device which was codenamed Winsor (clever, eh?) and was designed to be released in late 2011, after the Pre 3 came out. The WinsorNot was very similar to the Pre 3, with the same internals and a similar slider design, but with a larger 4" display and webOS 3.x. The trouble was that webOS 3.x wasn't exactly optimized for phones, and was more of a shrunk down version of the tablet OS. HP didn't have the resources to develop everything in the pipeline (Pre 3, Veer, Touchpad, and Touchpad Go) so the WinsorNot was scrapped.
Adding to the troubles for the WinsorNot is that if HP had decided to go forward with the device, it likely would have slipped to 2012, a time when AT&T wanted to focus on LTE, which the WinsorNot couldn't handle. So, it disappeared into the smartphone sunset. For a much much more in-depth version of the story, hit the source (if you tend towards tl:dr, don't bother.)