The mystery Android L icon is an updated stock Messenger app, Hangouts still around
6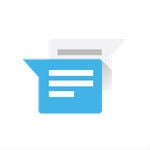 Early on, when we started seeing leaks of the Nexus 6 and Android L (now known to be 5.0 Lollipop), there was a mysterious new icon on the home screen, which began to fuel speculation that Google might have a new messaging app in the works. Now we have some questions answered. We know what the icon is, but we don't yet know anything new about the possible WhatsApp style app claimed to be part of Android One.
It turns out that the new icon is actually something more strange than we first thought: its an update to the stock Android SMS app. The app used to be called Messaging, and has now been rebranded as Messenger. This is strange because Google has been putting almost no effort into the stock Android apps for a while, and has been focusing more on its suite of Google apps. A Google spokesperson said that it is a matter of choice:
Hangouts work great for cross platform (web, iOS, Android) and cross medium communications (video, voice,messaging, SMS). Messenger will be specially designed to be a quick and easy way to send and receive SMS and MMS messages on Android
The spokesperson also confirmed that Hangouts will be included on the Nexus 6 in addition to the Messenger app. This isn't a surprise because the stock Email app is always included along with the Gmail app. Still, it's good to know what's going on.