The majority of top 100 brands already have published mobile apps
1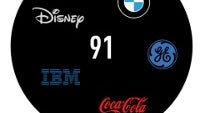 Mobile analytics from Distimo give us some more data to satisfy our hunger for statistics – now, the
majority of the top 100 brands have their own apps
in one of the bigger application stores. Most of them are present on iTunes. Why is this surprising, you might wonder. Well, because just 18 months ago the number stood at only around 51%.
It's also worth mentioning that the top 100 brand list is taken from the Interbrand 2011 Best Brands reports. It lists companies like
Coca-Cola, BMW, Disney and IBM
, and their brands.
Interestingly, though, the Android Market is also quickly getting traction, with distant runner-ups including RIM, Amazon, Microsoft, Nokia and their marketplaces.
Not all brands are born equal
. Some are eager to flood the markets with apps. Most notable on this list is Disney with a whopping 636 apps and Sony with 285 titles. Only a meager 9% of that top 100 don't have app presence. Among them are fashion brands like Burberry, but also household brands like Kleenex and beer maker Corona. Is an application by a big company strengthening its brands?