The liquid metal Turing Phone, with end-to-end encryption, goes for pre-order this month
21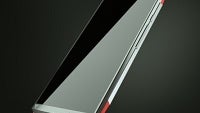 Back in April, we got our very first glimpse of the
Turing Phone
, designed by Turing Robotic Industries. Intriguing in design, it boasts a number of bespoke features, including a liquid metal finish that is apparently stronger than steel. Robust throughout, the device should appeal to those concerned about security and privacy, with end-to-end encryption that creates a 'protected communications network' immune from third-party intrusion. According to a new press release from TRI, the device will make pre-order on July 31st, with the base-level 16 GB model starting at $610.
The strengthened finish means that the Turing Phone is very shock-absorbent, and with an IPx8 waterproof rating, can be submerged under 30 feet of water. At a time when Samsung has even dabbled in premium smartphone finishes of the metallic nature, the Turing looks rather beautiful. But by the same token, there are practical reasons for TRI's design choices here, and unlike the slick
Galaxy S6
, the Turing Phone is built to withstand the elements.
While the 'Liquidmorphium' frame, said to be stronger than steel and titanium, is great for fans of toughened finishes, any high-ender still needs the specs to maximize appeal. To this end, the Turing Phone offers a Qualcomm Snapdragon 801 CPU, 13 and 8-megapixel cameras on the back and front respectively, and runs on Google's Android 5.0 Lollipop out of the box. Along with the 16 GB variant, there's a 64 GB ($740) as well as a 128 GB ($870) option, while the 5.5-inch display is a full-HD affair with its 1080 x 1920 resolution.
TRI will officially unveil the four different color configurations of the Turing Phone on July 22nd, and with the Turing Library SDK set to roll out early next year, this company is aiming to be more than just another flash in the pan.
Will you be grabbing this handset? Let us know via the comments.