The latest crime fighting tool for Baltimore cops: A BlackBerry phone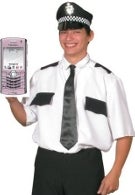 "Don't move or I'll email you" is probably not what the politicians in Baltimore had in mind when they decided to spend some bucks on 2,000 BlackBerry handsets to be issued to city cops. The 5-0 will be using the phones to check on warrants, criminal histories, and to send and receive pictures. The device is being called a "Pocket Cop" and in early tests, those policemen using a BlackBerry made twice as many arrests as those without the phone. The model of the device is not known.
The idea of using the 'Berry is to allow the officer to obtain and send information away from the screen in the patrol car, thus making the policeman more mobile. Police Commissioner Frederick Bealefeld II said, "In the last 15 years of law enforcement, we've trained cops around their vehicle. We've made their vehicle their mobile office. Except that now, they don't leave the office. This 'Pocket Cop' will help them move away from that car and break that tether."
source:
Crackberry