The latest Steve Jobs action figures are coming in time for the holidays
24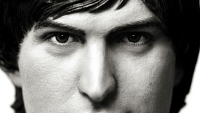 With the
second anniversary of Steve Jobs' death
taking place yesterday, what could be more timely than the release of the Steve Jobs 2nd Anniversary Tribute Action Figures from Legend Toys? The figures are available to honor two different eras of the Apple co-founder. There is 1970's Steve with a suit and tie, or the 1980's Steve with the turtleneck and jeans. While the toy company
already offered the 1980's version of Steve last year
, keep in mind that the new version of the figure has been upgraded with improved clothing.
The ratio of each doll is 1:6 and comes with a replica of an old time Apple computer, cut by laser and engraved. If you're a big fan of the late visionary slash genius, or you know someone who is, this makes quite a gift for the holidays. On the other hand, considering that last year's model was priced at $199.99, a subsidized
Apple iPhone 5s
might be a better idea.
"We think you can feel that we are not just making a commodity, all our artists including sculptor, painter, tailor and all our staffs are working wholeheartedly to recreate our spiritual mentor."
-Legend Toys
source:
Gizmodo