The iPhone SE has a bigger battery than the iPhone 5s
51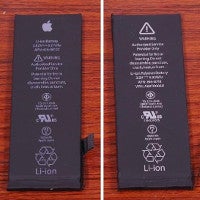 While rivalry within the Android ecosystem has led to a perpetual race for the latest and greatest in hardware, Apple has held a pretty leisurely pace in comparison. And so while the likes of Samsung, LG, and HTC are cramming as many as 1440 x 2560 pixels in tiny screens, Apple is unwilling to cross the 1080 x 1920 resolution line. And while Samsung's latest
Galaxy S7
features a 3,000 mAh battery, its direct rival, the
iPhone 6s
, makes do with a little over half that capacity.
Hardware specifications aren't everything, of course—as we've consistently tried to impress over the years—and Apple seems to agree. Which is why the company is traditionally lax when it comes to listing what it considers minutiae details about the techno stuff inside its devices. Battery capacity is a good example of that, and the
iPhone SE
has been the latest mystery.
As it turns out, despite it essentially being an iPhone 6s trapped in an
iPhone 5s
body, it adopts the cell of neither. Instead, as a teardown courtesy of
ETSupply
reveals, Apple went middle of the road—a slightly larger unit than the iPhone 5s', but still smaller than the iPhone 6s'. This allows us to fill in the final piece—specs wise—of our battery table
that we published on the day of the SE's announcement
:
Apple
iPhone SE
Apple
iPhone 6s
Apple
iPhone 5s
Audio*
50
50
40
Video*
13
11
10
Wi-Fi browsing*
13
11
10
LTE browsing*
13
10
10
3G browsing*
12
10
8
3G talk*
14
14
10
Battery capacity

1624 mAh

1715 mAh

1560 mAh
As you can see, on paper, the iPhone SE appears certain to deliver better battery life than even the iPhone 6s. This is due to a combination of factors, such as a smaller screen real estate and more efficient components compared to the iPhone 5s.