The iPhone 6s vs Nikon D750: 4K video beating the pants off a DSLR
66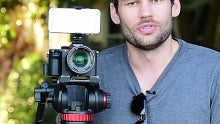 The
iPhone 6s
ushered Apple into the world of 4K video recording that Android handsets have been inhabiting for a while now, and, as usually happens when Apple considers a technology mature enough to offer it on its handsets, the 4K video shot with the new iPhones is polished and well-done.
Don't believe us? Check out the video below, where the 4K footage from the iPhone 6s gets compared to the best footage produced by a Nikon D750 digital SLR camera. The iPhone 6s, claims Lee Morris from Fstoppers, shoots with way better detail, livelier colors and a more pleasant contrast setting, compared to the DSLR.
Granted, the imaging processor inside the iPhone are leaps and bounds above the processing power in the DSLR, and the iPhone's 4K optimization has likely been a year in the making, but it's reassuring to know that in broad daylight the phone in your pocket can shoot as good a video as some DSLRs, and then some. As a bonus, we are throwing in a bikini shoot that Lee Morris did with the iPhone 6s, just to prove what a phone is capable of in the hands of a skilled photographer.