The hunt for "viral" is over – Verizon launches official James Franco DROID Turbo ad
10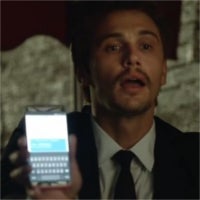 In the past couple of days, we've seen two videos that were supposed to look like simple fan footage of
random encounters
with actor James Franco, where he is accomplishing simple tasks with
inhuman speeds
. The videos were quickly uncovered to be part of a
Motorola DROID Turbo
viral campaign – one that would get people talking on whether or not the videos are real, and what the whole thing is about.
Seems the campaign wasn't planned to run for an annoyingly long period of time, though, as today, Verizon has launched an official ad, starring the famous actor, and again – showing him accomplish an impossible feat, but this time – very clearly – with the help of his Motorola DROID Turbo. The commercial is fairly fun to watch, so we won't spoil it for you.
In case you haven't heard already – the Motorola DROID Turbo is (probably) the world's most potent phone,
spec'd out to the brim
, with a 2.7 GHz Snapdragon 805 SoC, an Adreno 420 GPU, 3 GB of RAM, an impressive 3,900 mAh juicer, and a 5.2" QHD display. All of this is tucked in a robust body with a Kevlar fiber back, for those who want their phone to scream "durable powerhouse".
The DROID Turbo was recently
benchmarked
and has proven itself to be the fastest QHD phone available on the market. It is a Verizon exclusive device, so unfortunately, US residents will only be able to grab it with a a contract for that carrier. As far as the rest of the world goes – it is possible that the DROID Turbo may be launched as Moto Maxx outside of the US, however, areas and availability schedules are yet unknown.